About Lenovo ThinkPad
Get business functionality on the go.

Take advantage of all the toughness and reliability that comes with the Thinkpad name with a rugged tablet from Lenovo.

Take the Thinkpad X1 anywhere.

Don't miss a beat. The Thinkpad X1 features gorilla glass and military grade specifications so it can handle any environment you can.

See everything in high definition.

Both the Thinkpad X1 and Thinkpad Tablet 10 offer high definition screens with capacitive multi-touch for easy control.

Get the storage you need.

From 128 GB on the Tablet 10 to a full terabyte of storage on the X1, Thinkpad series tablets give you the storage capacity you need for almos any job.
eBay has provided more information about this product above and is not affiliated with or endorsed by Lenovo.
Compare Similar Models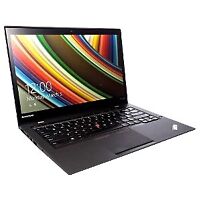 Lenovo ThinkPad X1 Carbon
Internal Storage
180 GB SSD
Processor
1.9 GHz dual-core
Front Camera
720p HD webcam
Operating System
Windows 10 Pro
Battery Capacity
15.5 hours